Operating capacitors, motor capacitors
Capacitors of the manufacturers Comar and Hydra (formerly AEG) with cable and flat plug connections; For the operation of alternating current motors or three-phase motors in stonemasonry on the alternating current network.
Suitable for continuous operation (DB), aluminum version for continuous operation and intermittent operation (AB).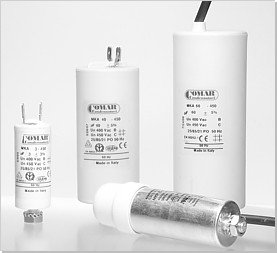 How do I determine if the capacitor is defective?
In the case of a defective capacitor, the motor either only hums or runs in any direction with a clear hum. The motor can also be manually started by hand in any direction.
Do I need an operating capacitor or a starting capacitor?
Operating capacitors and startup capacitors are often confused. Constant voltage is applied to operating capacitors. Start-up capacitors are connected in parallel to the operating capacitor and must be switched off when the motor has reached the final speed.
If only one capacitor is connected to your motor, it is an operating capacitor.
My capacitor has 4 flat plug connections, you seem to have only ones with 2 connections.
Capacitors only have 2 connections. Exception are special designs. If your capacitor has 4 connections, then 2 are connected with each other. You can connect 2 connected cables to a flat plug.
A liquid emanates from my defective capacitor. What is that?
This is an insulating or electrolyte fluid. Sometimes these fluids are easily corrosive and attack skin, surfaces or paints. It is advisable to wash the hands thoroughly and to clean surfaces that have come into contact with the liquid.
How long does a capacitor last? The technical data is 10000 hours.
Capacities on capacitors are valid for exactly defined conditions and can not be transferred directly to practice.
How long a capacitor lasts depends on the application. At high ambient temperatures and / or frequent switching on of motors, the service life is considerably lower than with an engine running under normal load at room temperature.
In the summer, for example, capacitors of garden pumps are often more likely to be used when they are operating in the blazing sun.